This website was created to give DFG retirees a place to stay in touch with fellow retirees and to find out what may be happening with their fellow retirees. Someday, maybe I will be able to say DFW and not think Dallas-Fort Worth but the Department of Fish and Wildlife. Don't hesitate to use the contact us tab to send me information to add to the website.
Historical Info
History of our Fish Hatcheries
Copy of 130 Years of DFG History from Outdoor Cal
California's Living Marine Resources: A Status Report
Recent or Upcoming Retirements
If Underlined, there is a link to their retirement party flyer.  You can also click on the Activities tab for more info.

Old News

Did you put money into a 401 or 457 and move it to a Roth. Have you calculated the payout over your retirement years?
Checkout this Payout Calculator
Recent eMail Returns
If you have current email addresses for the following retirees, please contact them and have them get in touch with me so that I can update their emails:
Gene Fleming
Claudia Fenner
Cecilia Hart
R. Ohler
Jim Ruch
Pat Moore
Frances Kaler

If you know of retirees who are not on the roster, please have them contact me so that we can make sure that we can all stay in touch.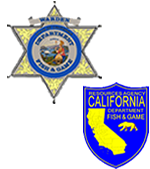 This Website is Provided by
Jack & Tracey Edwards
at www.LivingInElkGrove.com

Any time you want to simplify printing out a flyer,
do a right click, then select open in a new tab or new window to open just the
flyer for easy printing.